Coinjoy – your All-in-One Guide inside the crypto world
Wed 09 Mar 2022 ▪
4
min of reading ▪ by
Coinjoy.io is a сrypto news aggregator launched in late 2019. The platform has already established its reputation as a credible, easy-to-access, all-in-one source for the crypto community. Let's talk about what makes Coinjoy stand out from other platforms and why you might want to get on it.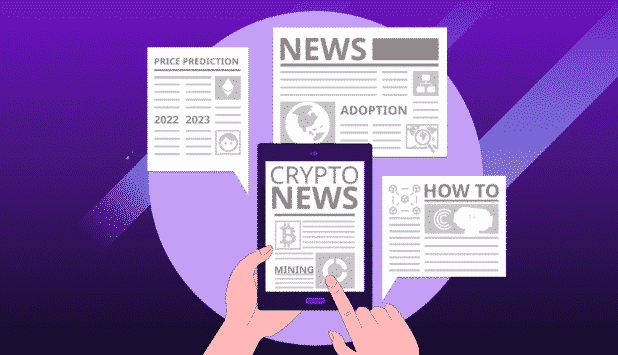 Coinjoy's Brand New Approach to Crypto News 
Coinjoy aggregates the most trusted and reputable media sources, including social media platforms like Twitter, Reddit, YouTube, Telegram, as well as blogs and podcasts. The sources are carefully hand-picked by the team members.  
Coinjoy is a convenient platform that values your time. With Coinjoy you do not need to switch between multiple websites to stay updated with the current situation in the crypto world.
The feed layout is fully customizable. First and foremost, by clicking the 'Setup' button, you can personalize your feed however you like. Choose your preferred news sources and read articles from multiple sources in a convenient fashion. 
Let's not forget to mention the outstanding Magazine section. In this section, you can read Coinjoy's exclusive material. The Magazine offers a variety of different topics: financial technology trends, expert interviews, cryptocurrency analysis, bitcoin news and introductory materials. Whether you are a beginner or an established professional in the industry, you will find articles to your liking. Coinjoy strives to spotlight new and exciting projects that bring something unique to the industry!
Last but not least, Coinjoy's very own crypto portfolio tracker. 
With this entirely free feature, you can track funds and evaluate real-time crypto price movements by creating one or several portfolios. Coinjoy offers hundreds of tokens to choose from.  Coinjoy's tracker allows sorting and comparing tokens by multiple features including highest & lowest prices, generating profit and historic data.
Roadmap
The Coinjoy team is creating the ultimate fully customizable crypto platform with easy navigation and fast delivery. The team behind the project has been developing the website to be as interactive and convenient as possible. Despite already having a user-friendly interface, Coinjoy will undergo several changes in the near future.
Coinjoy's Upcoming Feature: Templates
Coinjoy is planning to introduce a new and unique news feed setup feature, called Preset Templates. Templates for various topics and themes will be implemented. They will become additional category filters for Coinjoy's aggregated sources. Templates will allow users to set up their feed by certain categories. 
For instance, if you are looking solely for NFT related news, all you have to do is to choose the NFT option amongst templates. By doing so your feed will only select news related specifically to NFTs from multiple reputable publishers. 
With Templates, Coinjoy will do all the hard work for you. There won't be any need to search for sources manually. Your feed will become more structured and organized. By the end of 2021, the platform will receive fresh updates that are going to make looks better, experience smoother and speed faster. 

Connect with CoinJoy
Maximize your Cointribune experience with our 'Read to Earn' program! Earn points for each article you read and gain access to exclusive rewards. Sign up now and start accruing benefits.
Lorsque j'ai commencé à travailler dans la crypto en 2017, 95% des gens ne savaient presque rien à ce sujet. À vrai dire, peu de choses ont changé depuis. Cependant, il semble y avoir une lumière au bout du tunnel, et je tiens à l'opportunité d'y être impliquée
DISCLAIMER
The views, thoughts, and opinions expressed in this article belong solely to the author, and should not be taken as investment advice. Do your own research before taking any investment decisions.