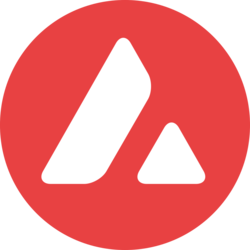 Avalanche price
AVAX
Volume 24h
$38,013,511.64
Offer available
310,080,397.903 AVAX
Total supply
720,000,000 AVAX
Capitalization
$3,982,280,191.15
AVALANCHE: A BRIEF SUMMARY
Avalanche (AVAX) is a platform for launching apps related to DeFi, financial assets, trading, and other services. Avalanche was founded by Ava Labs, which has three co-founders, including Emin Gun Sirer. The Avalanche mainnet was launched in September 2020. The AVAX token allows payments to be made on the blockchain. It is used to pay transaction fees, but also to pay AVAX holders staking their tokens.
WHAT IS AVALANCHE (AVAX)?
Avalanche is an open source platform enabling the creation of highly decentralised applications and interoperable blockchains. Accompanied by its native AVAX cryptocurrency, Avalanche is focussed, among other things, on the development of tokens and decentralised finance (DeFi) applications.
Avalanche is a high performance, scalable, customisable and secure open source platform dedicated to the deployment of smart contracts. In particular, it targets three main use cases: the creation of subnets, the hosting of decentralised applications (dApps) especially in relation to DeFi as well as the creation of crypto assets based on customised rules and norms.
Avalanche was developed by Ava Labs which is led and was founded by the enigmatic Turkish-American computer scientist Emin Gün Sirer. Avalanche describes itself as a revolutionary technology. This is thanks to its use of a new and radically more powerful consensus protocol. It is its protocol which allows, amongst other things, the true decentralisation and almost instantaneous validation of transactions.
Avalanche's network infrastructure was designed to ​​be extremely scalable and programmable. Thanks to this foresight, developers can deploy subnets along with their own runtime environments.
The Avalanche platform comes with its own native token, AVAX. This allows in particular the payment of fees on the network and can be staked. So why is Avalanche and its token, AVAX, important in the crypto space?
What is Avalanche (AVAX) for?
Avalanche's main advantage is that it is a very complete ecosystem that fulfills many roles. For example, Avalanche is able to meet all the blockchain and smart contract needs on its own. With such a wonderful ecosystem, it's obvious that its ambition, to build the internet of finance, does not have to be modest. One way it plans to do this is by hosting DeFi protocols, stablecoins and applications of all sorts.
Furthermore, the Avalanche network allows the transfer of AVAX with high frequency and confirmation transactions times of just a few seconds, usually under just one. However, why does this make the innovations brought by the Avalanche project, namely its consensus mechanism, so special?
To ensure good network maintenance, the Avalanche consensus is rather unique.  The Avalanche consensus is part of a family of protocols which go under the prefix of 'snow'. This winter-y family includes protocols such as Snowflake and Snowball. You see how they are getting bigger… eventually leading to an… Avalanche!
This 'snow family' that Avalanche is part of, actually is groundbreaking as it is the first breakthrough since the Nakamoto Consensus (variations of the Bitcoin Consensus Algorithm created by Satoshi Nakamoto). Before Nakamoto's creation, we had what is called the classical consensus protocol (the family of consensus protocols in which we find algorithms designed before Bitcoin and were used in semi-centralised systems such as Hyperledger or Ripple). What Avalanche offers are all the advantages of both the Nakamoto and classical consensus protocols but with none of their drawbacks.
If that was not enough, Avalanche has the added benefit of being resilient to 51% attacks. It is the only consensus advanced enough to tolerate a high percentage of malicious actors (Byzantine): the threshold for classical is 33% and for Nakamoto it's 50%, while Avalanche can withstand 80% according to Ava Labs.
So in summary, the Avalanche consensus is scalable, robust and highly decentralised just like the Nakamoto consensus, however, like the original classical consensus it remains lightweight, has quick finality (a low latency of around two seconds), an amazingly high throughput (up to 10,000 transactions per second – that's similar levels to Visa or Mastercard) and finally, its sustainable using very little energy.
AVAX of course is the utility token built upon the Avalanche network. With AVAX the network is secured as AVAX has to be staked. The requirement to stake AVAX deters Sybil attacks, as it proves you are not more than one person. Those who stake also can earn interest through minting.
AVAX can also be used to pay the network fees and for governance. Finally, AVAX provides a basic unit of account between subnets, a set of nodes that validate blockchains deployed on Avalanche.
It is important to note that one AVAX equals 1,000,000,000 nano AVAX (nAVAX), the same relationship that satoshis have to bitcoin (BTC).
How to buy AVAX?
AVAX is not as readily available as some other cryptocurrencies notably missing on the likes of Kraken. However, luckily that does not really matter as the easiest and cheapest way to purchase AVAX is on Crypto.com or Binance. If you have not used either of these exchanges before be sure to read our guides on how to buy cryptocurrency in our Ultimate Guide To Buying section. Also use the code TCT50 when signing up to Crypto.com to get a free card and $25 or get a reduction in your trading fees on Binance.
On Crypto.com you can buy AVAX using BTC, USDT or their native token CRO. Simply click on Trade then Buy.
You then need to use the search bar to find AVAX, once you have clicked on it and selected Crypto Wallet, choose either BTC, USDT or CRO. Click buy once you have your desired amount, you then have 15 seconds to Confirm the trade!
On Binance, you can buy AVAX with BTC, USDT, BUSD, TRY or Binance's native token BNB.
Once you have found your chosen pairing i.e. AVAX/BTC through the Markets tab at the bottom of your app, tap it and then click BUY. Here you can choose the price you wish to purchase AVAX at and the total amount you wish to spend in the cryptocurrency you have chosen (in this case BTC). All you need to do now is click Buy AVAX. Your order will be submitted. If you chose a market order it will be executed immediately. If you chose a limit order your order will only be executed once the price has been reached.
What's our opinion on Avalanche (AVAX)?
It is not everyday that a completely new consensus protocol is created, especially one that solves all the issues that we have had in the past. Bitcoin is regularly slaughtered for its enormous energy consumption – it would take FOUR Chernobyl nuclear plants just to service Bitcoin's energy needs. And to think this is just one of the Nakamoto consensus protocol's downsides.
Avalanche has brought to a table a genuine solution to challenge, what was the leader for over a decade. This is how exciting the world of crypto is! AVAX's price rally at the end of 2020 into the beginning of 2021 showed that many people agreed with its huge potential. After a more than 50% pullback in its price, where will AVAX's price go next? Will it fall down the mountain like an Avalanche or right new peaks? Do your own research and invest wisely.