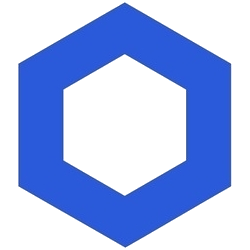 Chainlink price
LINK
Volume 24h
$244,455,009.72
Offer available
517,099,970.453 LINK
Total supply
1,000,000,000 LINK
Capitalization
$3,708,286,655.65
CHAINLINK: A BRIEF SUMMARY
Chainlink (LINK) is a decentralised oracle network that aims to link smart contracts to real-world data. It was created by Sergey Nazarov in September 2017 through an ICO, which raised $32 million. The total supply of LINK is capped at one billion tokens, and they are used to pay node operators.
WHAT IS CHAINLINK (LINK)?
Chainlink is a decentralised oracle system that provides external information to blockchains so that they can run smart contracts that need such data.
In its early days, it was impossible for a smart contract to execute an operation with information that was not exclusively on the blockchain. Then came centralised oracles. These people or companies provide data related to a specific event that will take place after the smart contract code has been programmed, but with the downside of being easily corruptible and providing false information. 
Several crypto projects then attempted to create a decentralised oracle system to prevent the collection of false information, but none really managed to stand out from the crowd other than Chainlink.
With its own mechanics and the development of a reward and penalty system for oracles that provide good or bad information, Chainlink has managed to establish itself as the most reliable decentralised oracle, allowing smart contracts, whose execution is inherently irreversible, to function properly with good information.
What is Chainlink for?
As we have said, Chainlink provides reliable information to smart contracts through its network of decentralised oracles. However, it is worth briefly explaining how Chainlink manages to ensure that it provides reliable information and that the risk of providing false data is virtually non-existent.
The first thing Chainlink thought of is to have several different oracles for each particular type of information (weather on a given date, aircraft delay, election result, etc.). This allows these oracles to compete with each other and to have several data sources as a base.
When a request is sent to Chainlink for specific information, the project analyses the reputation of each oracle that is able to provide the requested kind of data. Then, thanks to a system developed by Chainlink, the information is collected and weighted by the reputation of each oracle. Finally, after discarding the duff data, Chainlink is able to provide information to a smart contract by aggregating all the data it has received from its oracles.
In this way, it is possible to provide information that is as close as possible to reality. All oracles that provide exact information, or who were very close to it, are rewarded with LINK tokens and their reputations grow. On the other hand, if an oracle has provided bad information, it loses LINK tokens and its reputation diminishes.
The higher an oracle's reputation, the more weighted the data it provides in the final result, and the more rewards it will earn. Conversely, an oracle with a low reputation will receive few rewards and if it falls below a certain threshold, it will no longer be possible for this oracle to provide data nor obtain any reward.
The LINK token has several uses. First, it is mandatory for an individual or company that wishes to use Chainlink's services to use LINK tokens as a means of payment. This is the only option currently available. The price to purchase data depends on several factors, such as the resources needed to obtain it and the number of oracles that are able to provide that information. 
Second, LINK tokens also serve as a reward for people or companies that provide oracle services. In fact, they must find a way to obtain reliable information, insert it on the blockchain in a compatible format and be present as often as possible to respond to queries.
How to buy LINK?
Not so long ago, the only way to obtain LINK tokens was by exchanging them for other, more capitalised digital assets such as Ethereum and Bitcoin. However, given the growing popularity of Chainlink, some exchange platforms now allow you to directly use fiat money (pounds, dollars, etc.) to purchase LINK tokens directly, without having to go through another cryptocurrency. However, these exchanges are still rare and can be counted on one hand. LINK is still a relatively young project, so it will be a little longer still before most exchanges allow you to buy it.
If you don't know which exchange site to buy LINK tokens on, we advise you to be very careful, as many platforms are unreliable and you may never see the money you deposit on them again. To avoid this, we have created a small list of reliable exchanges that you can use to carry out your operations safely. Ultimately, we cannot stop you from buying Chainlink from another exchange site, but you should be aware that you run the risk of losing the money invested on a dodgy platform.
What is our opinion on Chainlink (LINK)?
We are quite bullish on LINK. We are pleasantly surprised by the system put in place by Chainlink and we consider it currently the best decentralised oracle solution available on the market.
However, in order to improve the reliability of blockchain oracles, we hope that other competitors will enter the market in order to push Chainlink to continuously improve what it has already managed to design and to allow smart contracts to collect information from several sources at once, in order to further increase the reliability of the information transmitted.
Until serious competitors to arrive, Chainlink remains a more than acceptable solution and already allows projects requiring an oracle service to obtain data reliable enough to function properly. The development team in charge of the project has already done a good job and we hope that it will continue to outdo itself by providing an ever more attractive service.
If you would like to learn more about the subject, we invite you to consult our various guides related to Chainlink (insert link) which each time deal with a specific point of this decentralised oracle.