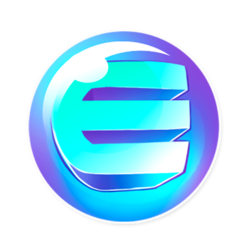 Enjin Coin price
ENJ
Volume 24h
$11,629,158.41
Offer available
1,000,000,000 ENJ
Total supply
1,000,000,000 ENJ
Capitalization
$467,987,529.25
ENJIN COIN: A BRIEF SUMMARY
Enjin is a company that has established an ecosystem of integrated blockchain software products offering game developers the assets and tools for implementing and managing virtual goods on the Ethereum network.
WHAT IS ENJIN COIN (ENJ)?
Enjin Coin (ENJ) is an ERC-20 token used to directly back the value of blockchain assets created with the Enjin platform. 
Enjin and game development
The firm aims to increase the implementation of ENJ-backed products in the gaming industry. Enjin has released software development kits (SDKs) allowing users to both create digital assets on Ethereum and integrate them into games and apps.
Each minted asset is customizable to fit the desired platform and is recorded in a smart contract, imbuing the digital items with the advantages of cryptocurrencies, namely speed, low cost of transactions and security. Enjin uses smart contracts to mint both fungible and non-fungible tokens (NFTs), which can be sold on the Enjin Marketplace for ENJ. The more NFTs are bought by users, the less Enjin Coins are out there. Therefore, the coin shortage raises its value day by day.
Enjin's Platforms send instant notifications to users' smart wallets for each transaction request. When the transaction is accepted by the user and created on the blockchain, the wallet puts the transaction through the Trusted Platform API. The game or website can then be updated immediately with a placeholder item or a non-tradeable version of the asset until enough confirmations have passed to allow full ownership of the item. 
The Enjin platform offers many benefits for creators and users:
-Transparent and limitless transactions
-High liquidity
–Trading items in games and apps
-Easy solution to inflation
Users are able to support ENJ by "melting" their assets at any point in time.
The asset's maximum supply is 834,331,121 coins.
Where can I buy ENJ?
In case you want to buy ENJ, it is available for purchase on Binance, Coinbase Exchange, Bithumb, KuCoin and other crypto exchanges.