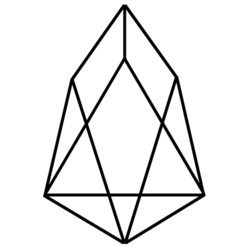 EOS price
EOS
Volume 24h
$30,707,429.67
Offer available
1,076,151,606.261 EOS
Capitalization
$1,001,011,989.45
EOS: A BRIEF SUMMARY
EOS was designed to allow developers to create decentralised applications (dApps) by simplifying the blockchain for them. The EOS blockchain also wants to be much more scalable than its competitors. EOS was developed by BlockOne, while its white paper was written by Daniel Larimer and Brendan Blumer.
WHAT IS EOS.IO (EOS)?
EOS is a third generation blockchain and cryptocurrency. Its ambition is simple: to overtake Ethereum. The project is backed by some well-known faces in the crypto space, such as Daniel Larimer and Brendan Blumer, something that gives this project much more weight among crypto investors.
EOS was a groundbreaking project when it was first released. It intended to turn the crypto world on its head by making the blockchain much more accessible to all stakeholders – users, investors, developers and more!
During the project's unprecedented year-long ICO (Initial Coin Offering) between 2018 and 2019, it rode on an enormous wave of hype that raised funds of $4.1 billion (£3.15 billion). However, was it just that – hype? Or is this staggering figure worth it? For this record-breaking cryptocurrency slated as the 'Ethereum killer', it's worth taking a deeper look.
What is EOS for?
It is well-known that Ethereum faces serious shortcomings, and has done for several years now. Scalability is the key issue, and is holding back further development on the network. It is leading to high transactions fees (up to $50 as of March 2021) and very slow transaction speeds. This is simply unacceptable for developers of dApps (decentralised applications) and smart contracts (contracts based on defined conditions that can be automatically executed on the blockchain).
Founded by the company Block.one, EOS was created to go beyond what Ethereum is currently able to offer, by allowing transactions at no cost and by validating thousands of transactions per second, up to 300,000 in fact (compared to just seven for Ethereum). Of course, another one of its objectives is to facilitate the development of dApps and smart contracts.
EOS asserts itself as a decentralised operating system offering the opportunity for new applications created by developers to interact with each other. One of its blockchain strengths is its consensus mechanism, which is based on Delegated Proof-of-Stake (DPoS), developed by EOS' project leader, Daniel Larimer. This mechanism works by putting forward delegates who are responsible for managing changes within the blockchain, without needing the consensus of all users.
This means that, instead of creating a decentralised infrastructure, EOS stakeholders are able to focus more of their energy on deploying their own blockchain. This has led to some huge progress in the EOS project. Wallet identifiers are much more simple, and entire wallets can actually be recovered if lost. This makes EOS a great blockchain project for beginners, who are just trying to get their feet wet in the crypto space.
Furthermore, it is much more simple for developers too. When publishing a project on the EOS blockchain, developers publish what is known as a Ricardian Contract. This means the proposed project is written in plain English, so all potential users will be able to understand its specific ins and outs.
Where to buy EOS?
To buy EOS, you have to go to an exchange site that supports this cryptocurrency. Given the fact that this is an established project, all purchasing platforms will allow their users to buy EOS.
However, it is not yet possible to buy EOS everywhere using fiat money directly (pounds, dollars, etc.) as exchanges usually only reserve this for most popular digital currencies. Therefore, you will usually have to start by buying BTC or ETH, and then use these cryptocurrencies in exchange for EOS tokens.
It is also important to pay close attention to the exchange site you use to buy EOS. Because of the many scams that unfortunately still exist in the cryptocurrency industry, you should never deposit your money on a dishonest platform that may not return your money. In order to avoid this kind of problem, we advise you to use only one of the exchanges we have tested and approved, which will help you to avoid any unpleasant surprises.
Our opinion on EOS (EOS)
EOS is one of the OG 'ETH killer' projects in the cryptocurrency community and yet, the project sits comfortably in the top 50. Given its age, though, it is normal to wonder what the future holds for EOS, with the team of developers behind Ethereum working hard to scale its blockchain, and the first stage of ETH 2.0 already launched.
Furthermore, according to its critics, EOS is far too centralised, misleadingly democratic and completely insecure (proven by the numerous hacks on its blockchain). It really seems like once ETH makes its full transition to a PoS mechanism, all of these ETH killers (including EOS) may end up without purpose.
Still, we always tell our readers to do plenty of their own research before jumping into a project and buying its tokens. If you would like to learn more about EOS, why not check out our guides to it – they go into much more detail than we were able to do in this short introduction.