DeFiChain launches "Fort Canning Road" hard fork
Thu 21 Apr 2022 ▪ 23h41 ▪
5
min read — by
The long-awaited "Fort Canning Road" – a hard fork of DeFiChain, has gone live! Now, decentralized financial applications and services are available for traders, HODLers, and people who don't have access to traditional brokers.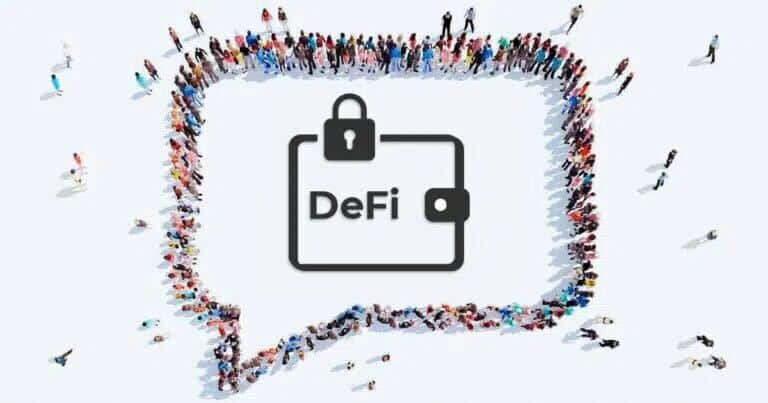 dToken pricing issue is now fixed
The Fort Canning Road hard fork marks the rollout of a code update that fixes the dToken pricing issue. dTokens were trading at 10-15% premiums to their corresponding stock prices due to consistent high demand; this prevented investors from being able to take long positions on dTokens. 
U-Zyn Chua, Principal Researcher at DeFiChain , said:
"Bringing dTokens closer to their real-world counterparts will make them significantly more attractive to investors and pave the way for future adoption of DeFiChain. Additionally, futures contracts offer lucrative arbitrage opportunities for traders."
Decentralized assets (or dTokens) on DeFiChain are an entirely new and revolutionary form of cryptocurrency investment. These dTokens can be created (minted) by anyone on the DeFiChain blockchain. This is possible by locking in a minimum of 50% of DFI tokens in safe storage; it is also possible to also lock in BTC, USDT, and USDC. You can find more information about decentralized finance here.
A dToken can be minted and withdrawn as a decentralized loan; this loan is backed by cryptocurrencies. The price to mint a dToken is set by looking at price oracles for reference. For example, a TSLA oracle award is used to create dTSLA. dTokens can then be held as an investment or traded on the DeFiChain DEX; dTokens can also be used for liquidity mining on the DEX.


The Fort Canning Road hard fork allows for futures contracts. This keeps the dToken price within a range of plus or minus 5% of the corresponding shares being traded. If the price of a dToken deviates more than 5% from the actual price, DeFiChain users have the option to take a short-term, low-risk arbitrage opportunity. Once a week – that is to say every 7*2880 blocks – the price of each dToken is brought within the range of plus or minus 5% of the corresponding share price.
Upgrade for native dUSD stablecoin
Another major update arriving with the Fort Canning Road upgrade is DeFiChain's native stablecoin, dUSD. It will be treated in the same way as DFI. 50% will be locked-in, resulting in a fixed price of $0.99. Therefore, people will no longer be required to provide a minimum of 50% collateral in the form of DFI when minting new dTokens. People can now mint new dTokens by providing dUSD as collateral. It is important to note that DFI is the native token of the DeFiChain blockchain. 
More about DeFiChain
DeFiChain is a decentralized Proof-of-Stake blockchain created as a hard fork for the Bitcoin network to enable advanced DeFi applications. It is dedicated to creating fast, intelligent, and transparent decentralized financial services.
DeFiChain offers liquidity mining, staking, decentralized assets, and decentralized lending services. The mission of the DeFiChain Foundation is to bring DeFi to the Bitcoin ecosystem.
DFI was never sold through an ICO, instead everything was and is currently being distributed through staking. This means that the price was never set by DeFiChain – meaning it is completely independent to them – and consequently is exclusively driven by supply and demand.

The MainNet has been up and running since the day Bitcoin split in May of 2020, and has been running smoothly ever since. Although DeFiChain is not yet six months old, there is no need to wait for MainNet, staking, or anything else as everything is already live and working – right now!
Since DeFiChain is built on Bitcoin, which is by far the #1 in the industry, it benefits from the strong security and high hashrate power Bitcoin has. You can find more information about hashrate here.
Among the next steps in the roadmap, we can see that support of NFTs and the support of Ledger for the light wallet for DeFiChain T3-4 will be integrated.
DeFiChain continues to improve its service and offers a greater range of tools for crypto investors. It is important to introduce investors to decentralization in a clear and logical way so they can understand the many uses of DeFi.
Recevez un condensé de l'actualité dans le monde des cryptomonnaies en vous abonnant à notre nouveau service de newsletter quotidienne et hebdomadaire pour ne rien manquer de l'essentiel Cointribune !
I'm the co-founder of NFTexplained.info, an NFT site focused on creating educational content primarily for people entering the NFT space. I spend my free time researching crypto and NFTs; I love sharing my knowledge!
DISCLAIMER
The views, thoughts, and opinions expressed in this article belong solely to the author, and should not be taken as investment advice. Do your own research before taking any investment decisions.