Bitcoin ETF : The new danger for investors?
Fri 11 Aug 2023 ▪
4
min of reading ▪ by
Getting informed
▪
Invest
In an instant, passions flare, rumors rumble, and the financial world is in turmoil. Bitcoin ETFs, which have recently come under the spotlight, seem to be unleashing all kinds of passions. On the one hand, some are crying wolf, suggesting imminent dangers for investors. On the other, there are those who defend these newcomers as a genuine opportunity. So, between myth and reality, where does the truth lie?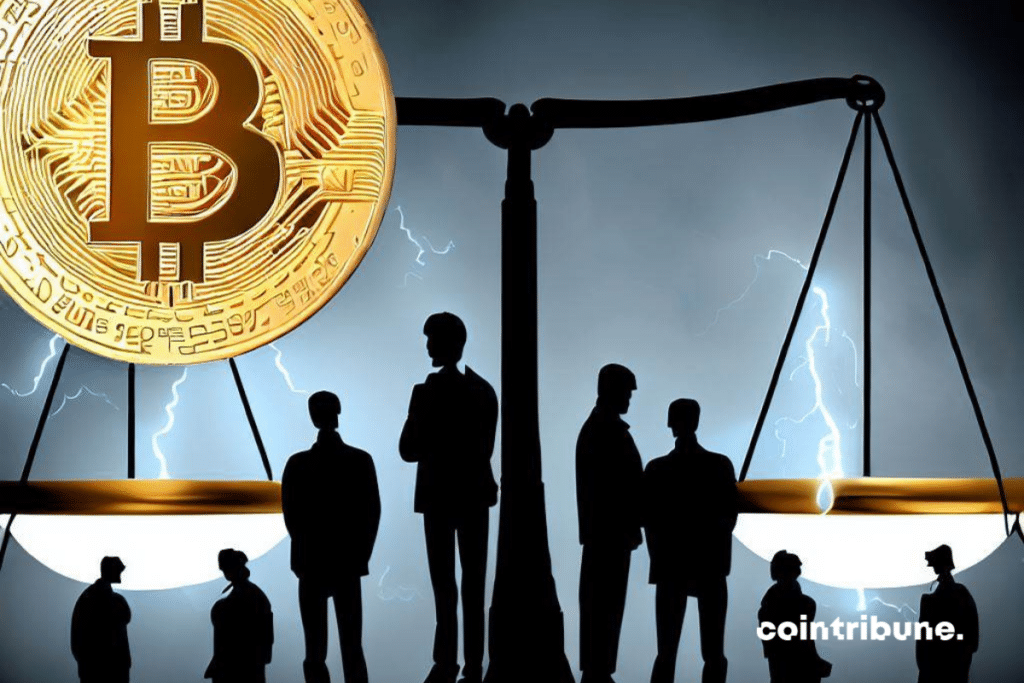 Cryptocurrencies' dark past: a heavy legacy to bear?
The glitter of technological progress sometimes conceals worrying grey areas. In the space of a decade, the crypto industry has suffered staggering losses of $2 trillion, a fact highlighted by Better Markets legal counsel Scott Farnin in his letter to the SEC.
He also points to the bankruptcies, sanctions and legal proceedings that mark this trajectory, acting as red flags for neophytes.
In addition, cases of lies, deceit and theft are all deafening echoes in the arena of this digital currency. The main beneficiaries? Criminals who use cryptocurrency to facilitate illegal actions: ransomware, money laundering and other dubious activities. It is against this backdrop that the letter reminds us of the importance of analyzing recent Bitcoin ETF proposals.
Bitcoin ETFs: Warnings vs. regulated potential
Scott Farnin has highlighted the concerns of many institutions regarding the risk associated with Bitcoin ETFs. However, shouldn't we be asking whether these losses are directly related to the existence of ETFs, or rather to the volatile and unregulated nature of the crypto market itself? Especially since regulation, precisely, aims to mitigate these risks.
Although criminals have found ways to exploit cryptocurrency, it would be a reductive view to say that they are the only beneficiaries. Many legitimate businesses, investors and innovators around the world have embraced blockchain technology to revolutionize sectors ranging from finance to healthcare.
As for concerns about oversight and regulation, it is precisely the introduction of financial instruments such as ETFs that could encourage stricter regulation and increased oversight, making the market more transparent and less susceptible to manipulation.
The hidden opportunity behind Bitcoin ETFs
When it comes to Bitcoin ETFs, it's essential not to overlook their potential. For sophisticated investors, they represent an unprecedented opportunity to diversify their portfolios.
Is it any surprise, then, that many financial players are looking to position themselves in this promising sector, despite the risks? Regulations exist to evolve, and perhaps the guardians of the financial temple, such as the SEC, will end up seeing in these ETFs a chance to further democratize the crypto sector, while making it safer.
Like the alchemists of old seeking to turn lead into gold, the financial sector is on a constant quest for the next big thing. Bitcoin ETFs, despite the controversies, could well be that much sought-after philosopher's stone.
It's crucial not to close the door on innovation, because behind every risk lies an opportunity. But time will tell: will these ETFs be the new Eldorado, or the smoke and mirrors of modern investors? Only time, that impartial judge, will tell. In the meantime, Ripple has no qualms about breaking down borders beyond the USA.
Receive a summary of the news in the world of cryptocurrencies by subscribing to our new daily and weekly newsletter service so you don't miss any of the essentials of Cointribune!
Fasciné par le bitcoin depuis 2017, Evariste n'a cessé de se documenter sur le sujet. Si son premier intérêt s'est porté sur le trading, il essaie désormais activement d'appréhender toutes les avancées centrées sur les cryptomonnaies. En tant que rédacteur, il aspire à fournir en permanence un travail de haute qualité qui reflète l'état du secteur dans son ensemble.
DISCLAIMER
The views, thoughts, and opinions expressed in this article belong solely to the author, and should not be taken as investment advice. Do your own research before taking any investment decisions.