The future is crypto: The London Stock Exchange shifts gears with Blockchain!
Tue 05 Sep 2023 ▪
3
min of reading ▪ by
Getting informed
▪
Blockchain is gaining ground. More and more entities are adopting it as an ally to ensure greater operational relevance. London's stock market is part of this trend, as it looks to take its performance to the next level.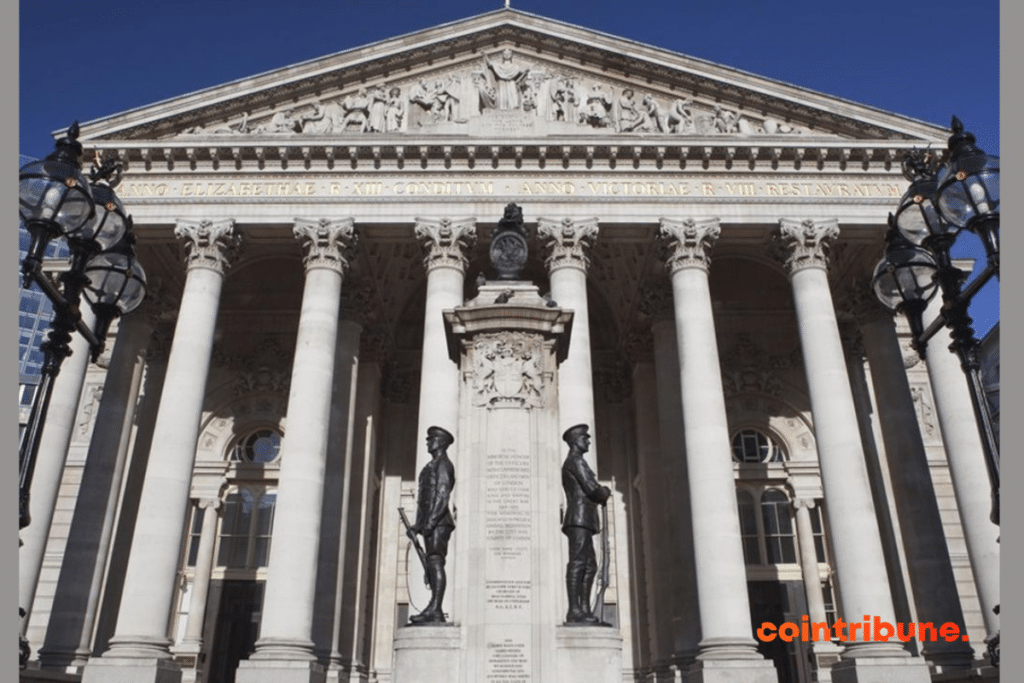 In brief:
The London Stock Exchange is banking on blockchain to speed up transactions.
The initiative aims to improve efficiency and transparency, without focusing on cryptos.
With this project, the London Stock Exchange is positioning itself among the pioneers of digital transformation.
Blockchain to make the London Stock Exchange more efficient
The London Stock Exchange Group (LSEG) is looking to make history. The renowned stock exchange intends to exploit the potential offered by blockchain technology. This, to improve the speed of securities trading processes.
Murray Roos, Head of Capital Markets at LSEG, disclosed the information in a recent interview. He explained the ins and outs of the project.
The initiative is spearheaded by Julia Hoggett, head of the London Stock Exchange. Murray Roos explained that it would involve the development of a blockchain-supported trading platform.
The idea behind the project is not to make it a gateway to cryptos. Rather, it's about leveraging blockchain technology to improve trading efficiency. This development is expected to increase the profitability of stock market transactions, but also their transparency.
The initiative is primarily focused on improving trading processes for traditional assets. This reflects LSEG's commitment to adopting cutting-edge technologies. This, while maintaining its core mission in the financial markets.
This non-crypto-related blockchain project currently under development is therefore set to be a game-changer for the London Stock Exchange. Ultimately, stakeholders hope to see the latter consolidate its position on the financial markets.
Is the London Stock Exchange at the forefront of digital transformation?
This project is no accident. It is in line with the financial institution's proactive approach to the adoption of financial technologies. A policy designed to encourage innovation in the fintech sector.
Above all, it's a strategic choice. A way for the London Stock Exchange Group to remain at the forefront of the digital transformation taking place in the industry.
But above all, this development confirms projections concerning the adoption of blockchain technology. The latter seems to be evolving at breakneck speed. A trend that should eventually concern the bulk of vital activities in the economies of countries across the globe. This should dispel the doubts of those states that are still hesitant.
Receive a summary of the news in the world of cryptocurrencies by subscribing to our new daily and weekly newsletter service so you don't miss any of the essentials of Cointribune!
Diplômé de Sciences Po Toulouse et titulaire d'une certification consultant blockchain délivrée par Alyra, j'ai rejoint l'aventure Cointribune en 2019. Convaincu du potentiel de la blockchain pour transformer de nombreux secteurs de l'économie, j'ai pris l'engagement de sensibiliser et d'informer le grand public sur cet écosystème en constante évolution. Mon objectif est de permettre à chacun de mieux comprendre la blockchain et de saisir les opportunités qu'elle offre. Je m'efforce chaque jour de fournir une analyse objective de l'actualité, de décrypter les tendances du marché, de relayer les dernières innovations technologiques et de mettre en perspective les enjeux économiques et sociétaux de cette révolution en marche.
DISCLAIMER
The views, thoughts, and opinions expressed in this article belong solely to the author, and should not be taken as investment advice. Do your own research before taking any investment decisions.