The Health2Earn revolution: "Eat, move, win!"
Mon 03 Jul 2023 ▪
12
min of reading ▪ by
Getting informed
▪
The blockchain and cryptocurrency industry has seen the development of health and wellness-related projects over the past two years. These are known as Move-to-Earn or fitness finance. These public or private initiatives are attempting to revolutionize the way we take care of ourselves and others!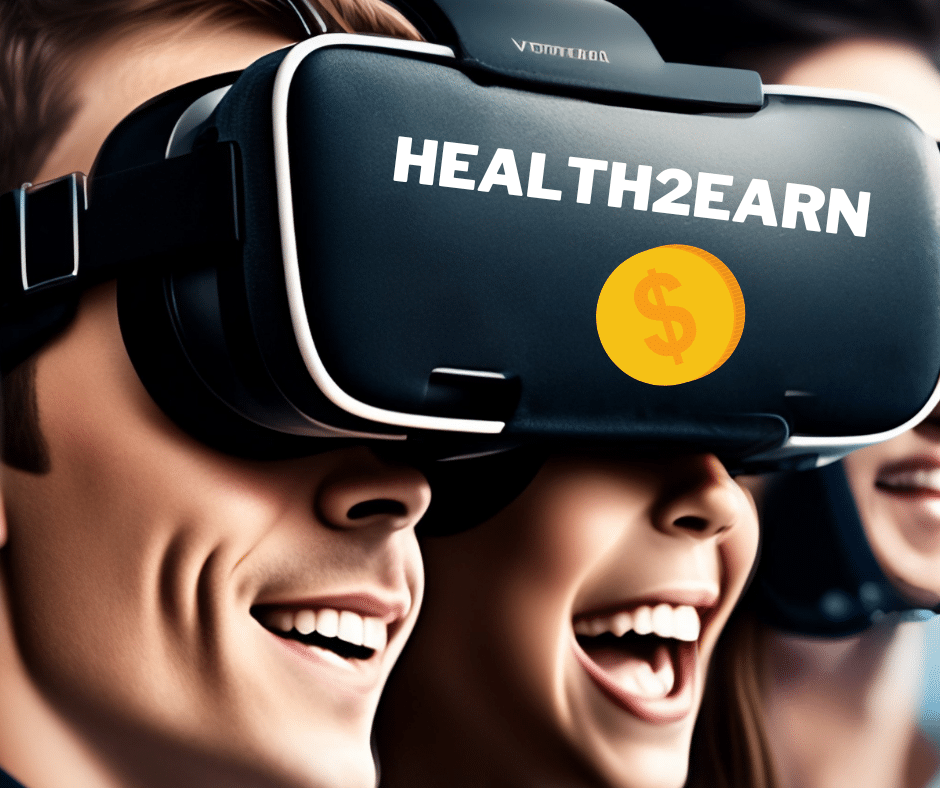 Technology at the service of sport
Who hasn't been demotivated by the idea of doing some sport? Who's ever felt guilty about eating something too fatty or too sweet? Of course, we're not here to moralize or pass judgment. On the contrary, these situations show us that motivation and health behaviors are variable.
For two decades now, electronics and connected objects have enabled us to measure our physical activity (e.g. number of steps). As well as our body's vital constants (e.g. blood pressure, heart rate…).
So much so that virtual communities have sprung up to compare results with friends and family. Seeing and being seen by your community of users has become the norm! That said, many projects are still struggling to maintain lasting user engagement. And that's where cryptocurrencies and blockchain come in.
Earn a token every time you provide proof of healthy behavior
It is now possible to digitally authenticate information linked to physical activity or nutrition. This information can then be used to generate a reward. The reward will be released to the user if proof of action or inaction is proven and validated in the blockchain.
Moreover, as we shall see, the granting of a reward increases an adult's adherence to physical activity for the first 6 months. This reward can take the form of a cryptocurrency token. But it can also take the form of a discount at a gym or a voucher for organic produce.
Beyond simple financial gain, the possession of a token can also confer voting rights or access authorization on its holder. This gives the holder the opportunity to participate in the governance of the project. They may also have privileged access to a sporting event or to the pre-sale of a sports item via what is known as a utility token. Numerous opportunities are thus open to all project leaders wishing to create a token-economy in the world of health, medicine, sport and well-being.
The rise of Health2Earn
In an ever-changing world, marked by the dazzling development of new technologies and the growing weight of the Internet of Things (IoT), health and well-being have become major issues. This concern for a better quality of life, accompanied by the need to take control of one's own well-being, is opening up new perspectives and generating disruptive innovations such as Health2Earn.
What is a Health2Earn?
A Health2Earn solution enables users to earn virtual (token, NFT) or physical (discount, equipment) rewards if they perform a health-related action. For example, a digital token will be awarded if the user of a Health2Earn application walks, runs, eats healthily or shares medical data. But how do you prove it?
This is where technology and projects like CORALAPP come into play. The team behind this Binance Labs-backed solution can use sensors and data in our phones to measure certain walking and running behaviors, but also vital constants linked to our heart health, for example.
Once the data linked to an action has been collected and stored on the blockchain, it becomes impossible to refute it. The fun aspect of these solutions, inspired by the world of gaming, can be highly addictive. This young American start-up is trying to breathe new life into physical activity, so that it is no longer seen as a chore, but rather as a game.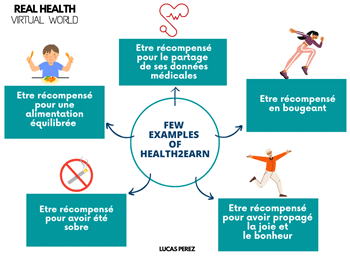 Despite the media attention paid in 2022 to "Move-to-Earn" projects based primarily on a number of kilometers traveled, the current trend seems more holistic and focuses on overall health.
Now, new Health2Earn solutions such as CORALAPP collect medical information such as blood pressure to better understand our bodies and determine personalized goals. Move-to-Earn solutions are gradually moving towards Health-to-Earn models by partnering with hospitals or the pharmaceutical industry to encourage, for example, type 2 diabetics to engage in regular physical activity. The Health-to-Earn revolution is underway!
From opportunities to ongoing projects
Numerous projects such as CORALAPP and VOSKALIA are developing and proposing original and ambitious solutions to promote physical and mental health through NFTs and for a "token-economy" of happiness.
The 1st 1ʳᵉ app rewarding the user's overall health with a focus on well-being and fitness
CORALAPP is one of Web3's most promising American companies in sport and health. The start-up has developed an app that gives users full control over their personal data related to their health and well-being.
As part of the CORALAPP ecosystem, an individual can decide to share his or her health data in order to earn tokens and NFTs. The adoption of healthy behaviors, likely to help us maintain our physical health and social relationships, is now rewarded. What's more, the solution could well become a public health tool in the next few years, helping to combat sedentary lifestyles and associated pathologies such as obesity, osteoporosis and depression. Whether in the West, Africa or Asia, the question remains: how can we motivate people to engage in sustained physical activity? Rewarding healthy behavior is the answer, according to a serious study.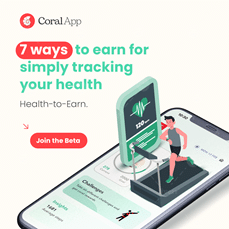 Promoting mental and physical health through NFTs
We live in a fast-paced society! According to the World Health Organization (WHO), since the start of the COVID-19 pandemic, a global mental health crisis has emerged among millions of people worldwide. Yet mental health is inherent to our general well-being. This quest for general well-being is supported by the VOSKALIA project, which enables users to earn NFT by evolving in a virtual world of adventure and fitness. This solution aims to become a veritable "virtual hub" for physical and mental well-being, where NFTs can be purchased by hospitals and medical-social centers to support the VOSKALIA project.
Issuing and distributing NFTs can also enable patients to be tracked beyond the period of hospitalization, while securing their personal data. Promoting healthcare through blockchain and digital assets seems original at first glance. However, it also helps tackle the stigma attached to illness and a healthcare system that is sometimes stretched to the limit. NFTs, for example, confer voting rights that would enable hospitals to influence the decisions and results of a private project. The value of an NFT will be determined by its adoption and usefulness within the ecosystem.
Moving towards a "token-economy" of happiness?
Happiness has more to do with a state of contentment than with any financial wealth. However, money brings serenity and security not only for ourselves, but also for our family, friends and the charities to which we contribute, if any. So it's not incoherent to imagine a "tokenization of happiness" where we are rewarded for spreading joy around us!
Rewarding someone with a token is not a bad idea to motivate them to do the same. Of course, this implies that happiness must be measured and quantified in order to allocate a fair number of tokens to the players in the ecosystem. The notion of community is once again important, and projects like CORALAPP have a role to play in spreading happiness through wellness challenges. Why not also "mine" or create an NFT of happiness ourselves? A sort of Happiness2Earn could be envisaged to finance mental health initiatives. Would it be possible to imagine a partnership with the WHO? Certainly, such a challenge could fund access-to-care programs around the world. What's more, we could imagine granting a token for every person who has made another person happy. The happiness economy has a bright future ahead!
Opportunities for the insurance industry
In recent years, insurers have become increasingly interested in the lifestyles of their policyholders. Behavioral and health data are now very much in demand. In fact, the American insurance company Oscar has offered its policyholders a connected pedometer watch to encourage them to walk or run, in exchange for a financial incentive. 1 is paid for each daily goal reached. The user thus becomes active, rather than passive as in the current insurance model. Thanks to the Health2Earn incentive model, an insurance company could very well make the reimbursement of a gym membership conditional on the blockchain indicating that the insured person attends regularly.
This logic could also apply to the reassessment of an insurance premium if the policyholder decides to join a Health2Earn program. In order to avoid any discrimination between "good" and "less good" policyholders, the policyholder's decision to join the program must be voluntary. The protection of privacy and respect for certain ethical principles, such as beneficence, will therefore be necessary to integrate the Health2Earn logic into the insurance sector in the long term.
Conclusion
The era of Move-to-Earn projects based on a Pay-to-Play model is almost over. Health2Earn projects now reward users for their overall health, as in the CORALAPP project. It is possible to monetize behavioral and medical data thanks to blockchain and partnerships with various players (hospital sector, pharmaceutical industry, sports and fitness industry…).
Mass adoption of Health2Earn will then depend on all the services and goods we'll be able to buy, sell or rent through huge virtual marketplaces linked to health and well-being. However, everyone is asking the same questions today: What is the value of a health token or NFT? How long will I be motivated? We are now the actors and owners of our digital data, whether it relates to our money, our movements or our bodies. The success of the new decentralized economy will depend on how widely it is used and accepted. Put another way, the success of Health2Earn is closely linked to the reliability of the blockchain, the use of cryptocurrencies and a vision of an ever fairer internet!
If you'd like to join the CORALAPP community and take part in future airdrops, you can download the application. For more information, and to take part in the Beta release of the 1st VOSKALIA virtual world, you can follow the team on Twitter.
At the time of writing, the author occupied the following position: Lucas Perez: Entrepreneur and founder of the expertise company Health My Project, I also host a Youtube webinar on health and technology for the European Union.
Receive a summary of the news in the world of cryptocurrencies by subscribing to our new daily and weekly newsletter service so you don't miss any of the essentials of Cointribune!
L'équipe éditoriale de Cointribune unit ses voix pour s'exprimer sur des thématiques propres aux cryptomonnaies, à l'investissement, au métaverse et aux NFT, tout en s'efforçant de répondre au mieux à vos interrogations.
DISCLAIMER
The views, thoughts, and opinions expressed in this article belong solely to the author, and should not be taken as investment advice. Do your own research before taking any investment decisions.