What is Crypto.com's DeFi Swap? We explain all!
Thu 06 May 2021 ▪ 13h02 ▪
8
min read — by
Remember decentralised finance? The sector, more commonly known as DeFi, has recently exploded and become the latest unavoidable trend in the cryptocurrency market. After Bitcoin (BTC) and altcoins, DeFi actually seems to be a little more than a trend. In the DeFi sector, which today weighs in at more than £9 billion, one of the central elements are decentralised exchanges (DEXs). They use smart contracts to exchange ERC-20 tokens – those built on Ethereum (ETH). With this said, if there is any crypto market player who quickly became a champion for DeFi, it is Crypto.com (CRO). In this article, we'll introduce you to how Crypto.com developed its DeFi Swap offering, which allows its users to enjoy the benefits of DeFi, all from the comfort of the Crypto.com platform.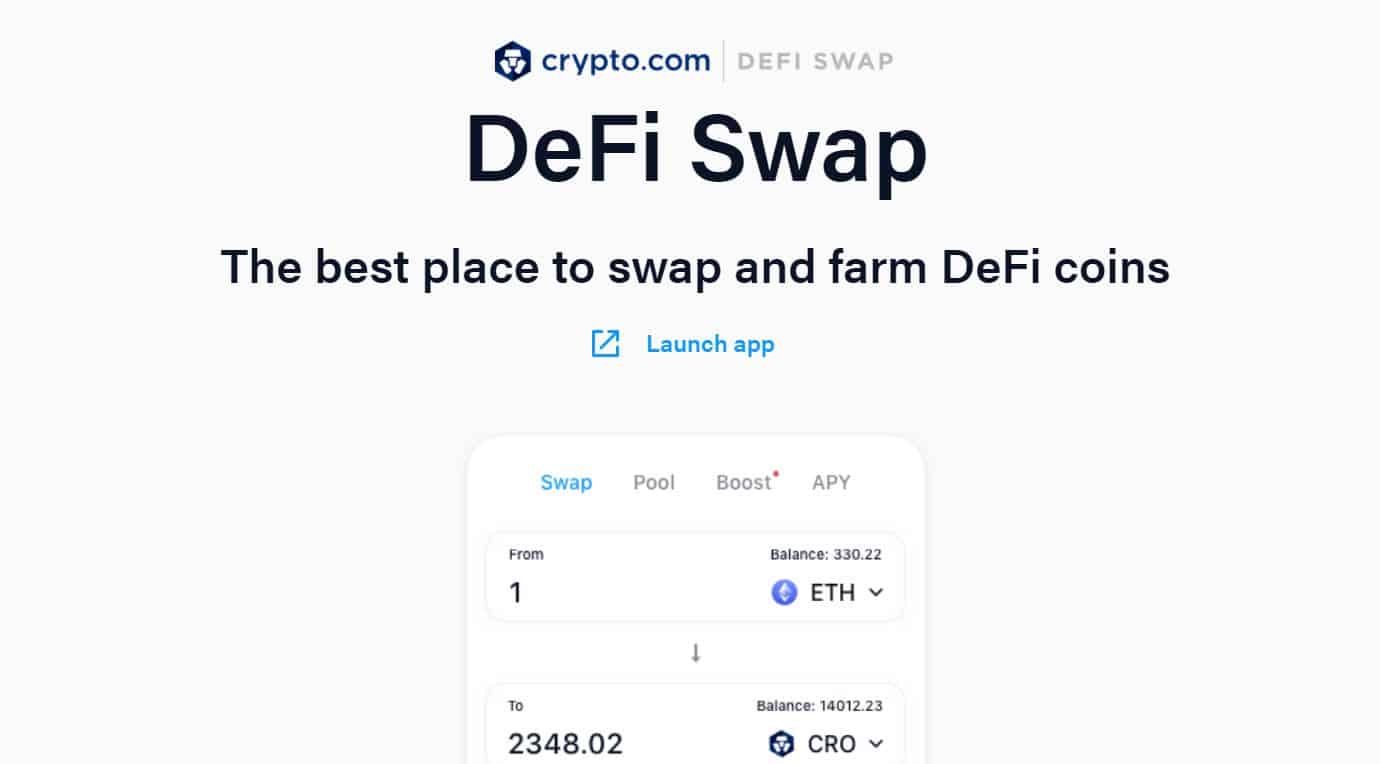 DeFi Swap by Crypto.com, you say?
Decentralised exchanges are at the heart of the DeFi sector, they allow users to acquire different tokens by exchanging them for other ones that they have in their crypto wallet.
The undisputed king of decentralised finance is Uniswap (UNI). During the DeFi summer of 2020, this DEX hit the headlines when its trading volumes exceeded those of Coinbase, the top crypto exchange in the world.
When you first look at Crypto.com's DeFi Swap page, it does look a little similar to Uniswap. This is nothing surprising, since DeFi Swap is simply a fork of Uniswap V2. Crypto.com does not try to hide this: it perfectly shows the philosophy of open innovation. With Uniswap's source code in open access, the Crypto.com research and development teams were able to purchase it to create a version with Crypto.com's distinctive flair. According to the same principle, the code behind the DeFi Swap platform is also directly accessible.
It is a good time to mention that decentralised finance is still a fairly new sector. You should, therefore, be careful when investing because, while it may offer significant upside, it can also lead to losses.
You may ask yourself why a centralised player like Crypto.com is setting out to create its own DEX. The answer is primarily a matter of philosophy. Launched in 2016, Crypto.com has had the goal of allowing everyone to control their own money, data and identity. DeFi and its smart contract protocols are a way to let Crypto.com's more than three million users strive for financial independence. There is also an opportunity for users to take advantage of its CRO token, which plays a key role on the platform. We will return to this point a little later in the article.
What can you do on DeFi Swap?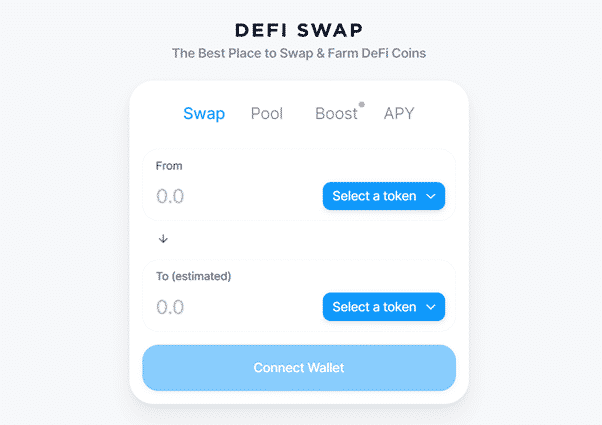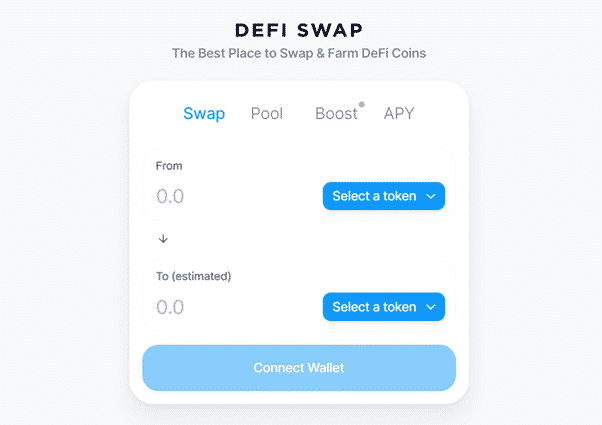 Now that we understand the context a little better and have a handle on Crypto.com's aims in launching this new DeFi tool, we will show you how you can go about using it. Pay attention to how to reap the full benefits, because there are quite a few of them!
First, as the name suggests, you can "Swap" DeFi tokens.
This means you can, for example, exchange DeFi tokens for ETH that are already in your crypto wallet. Crypto.com is adding new tokens all the time, but these are some of the biggest ones available on the platform right now:
NEST Protocol (NEST)
DeFi Swap is home to many of the leading tokens in the DeFi space. So, how do you swap them? The first thing you have to do when you go to DeFi Swap is to connect your cryptocurrency wallet. For now, you can link Metamask or ConnectWallet. Once this is done, you can start trading tokens!
Unfortunately, DeFi does not mean no transaction fees. In fact, all fees are shown to you before you validate a transaction, and they are used to pay fees on the platform. In practical terms, on a DEX, it is liquidity providers (LPs) that allow all exchanges to take place, so they take away a share of any transaction costs.
On DeFi Swap, you can not only swap tokens, but you can also become one of these liquidity providers to earn interest on your stake. To do this, go to the "Pool" tab and then click "Add Liquidity". Depending on the tokens you have, you can choose to make liquidity available to other DeFi Swap users and then collect interest on the pair of tokens that you make available to the exchange.
How do I use CRO on DeFi Swap?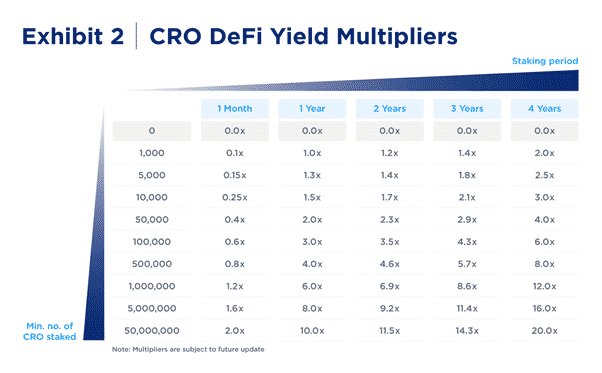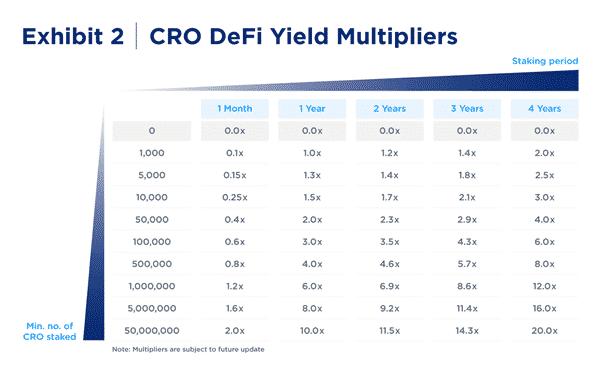 Beyond swapping tokens and earning interest by providing liquidity for the various DeFi Swap pools, CRO, the utility token of Crypto.com, also plays a major role, as it allows you to reap the full benefits of this new platform.
Simply click on the "Boost" tab. By staking CRO, you can multiply the interest you earn on your DeFi Swap stake. You can multiply your interest rewards up to 20x if you stake the maximum amount for the maximum period. Note that this is a period when your stake is 'locked in' to the platform, so once you stake, you will have to wait between 30 and 90 days to withdraw again. Wondering how profitable it may be to stake CRO on DeFi Swap? Just take a look at the details of the multipliers above based on the number of CRO you hold. If you want to get a more accurate idea, there is a dedicated yield calculator tab on the platform.
You can also receive additional bonuses by providing liquidity for DeFi Swap partner token pairs. For example, right now, you can receive bonus interest by providing liquidity for TrueFi (TRU). A total of 100,000 TRU are up for grabs as rewards for LPs. This bonus is sure to be repeated for other tokens in the future.
If you want to know even more about how DeFi Swap works, we also recommend watching the tutorial video. It guides you, step by step, through using all aspects of the platform, and gets you swapping DeFi tokens, providing liquidity and multiplying your earnings in no time!
Finally, as a DEX, DeFi Swap has total transparency on the volumes and transactions carried out. You can view all the analytics on a dedicated page of Crypto.com's DeFi Swap app.
So, DeFi Swap, an upgraded Uniswap? The site perfectly shows the ability and willingness of Crypto.com to position itself in the DeFi sector and help its users achieve total independence and financial control. This initiative is part of a more global strategy, since the exchange has already launched a DeFi wallet, which allows you to take full control of your cryptocurrencies. If you are already a Uniswap user, you will find yourself right at home on DeFi Swap. Still, the biggest pull is the chance to maximise your returns by staking CRO and then providing liquidity on this decentralised platform.
Recevez un condensé de l'actualité dans le monde des cryptomonnaies en vous abonnant à notre nouveau service de newsletter quotidienne et hebdomadaire pour ne rien manquer de l'essentiel Cointribune !
Hi! Привет! Salut ! Je m'intéresse à deux choses : la crypto et les langues. Je suis donc heureux de faire partie de l'équipe multinationale du CoinTribune, où je peux partager mes connaissances de la crypto avec des gens des quatre coins du monde – l'un article après l'autre.
DISCLAIMER
The views, thoughts, and opinions expressed in this article belong solely to the author, and should not be taken as investment advice. Do your own research before taking any investment decisions.