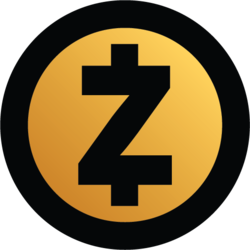 Zcash price
ZEC
Volume 24h
$33,516,947.73
Offer available
15,838,325 ZEC
Total supply
21,000,000 ZEC
Capitalization
$738,534,142.48
ZCASH: A BRIEF SUMMARY
Zcash (ZEC) is a popular decentralized network with the focus on the anonymity of its users' transactions
WHAT IS ZCASH (ZEC)?
Transactions in Bitcoin or Ethereum can only be called "conditionally anonymous", since data on all transfers, including sender/recipient addresses and amounts, are publicly available for anyone to study. In case of Zcash, connoisseurs of anonymity have the opportunity to completely hide all personal information about the transaction. Only the notification that the funds were sent will be saved in the blockchain, but the amount and participants of the transaction will not be indicated. To verify transactions in complete anonymity, ZEC uses zk-SNARK zero-disclosure proof technology. 
The Zcash network is protected by the proof-of-work hash function SHA-256, which belongs to the SHA-2 set of algorithms, just like Bitcoin.
The total offer of the asset is 12,540,488 coins.
How to buy Zcash (ZEC)?
If you wish to purchase ZEC for your investment portfolio, then please use the services of cryptocurrency trading platforms such as Binance, OKEx and others.