G. Gensler accuses CZ of trading against his clients
Fri 09 Jun 2023 ▪
4
min of reading ▪ by
▪
Crypto regulation
Gary Gensler faced the press to explain the serious accusations brought by the SEC against the exchanges Coinbase and Binance.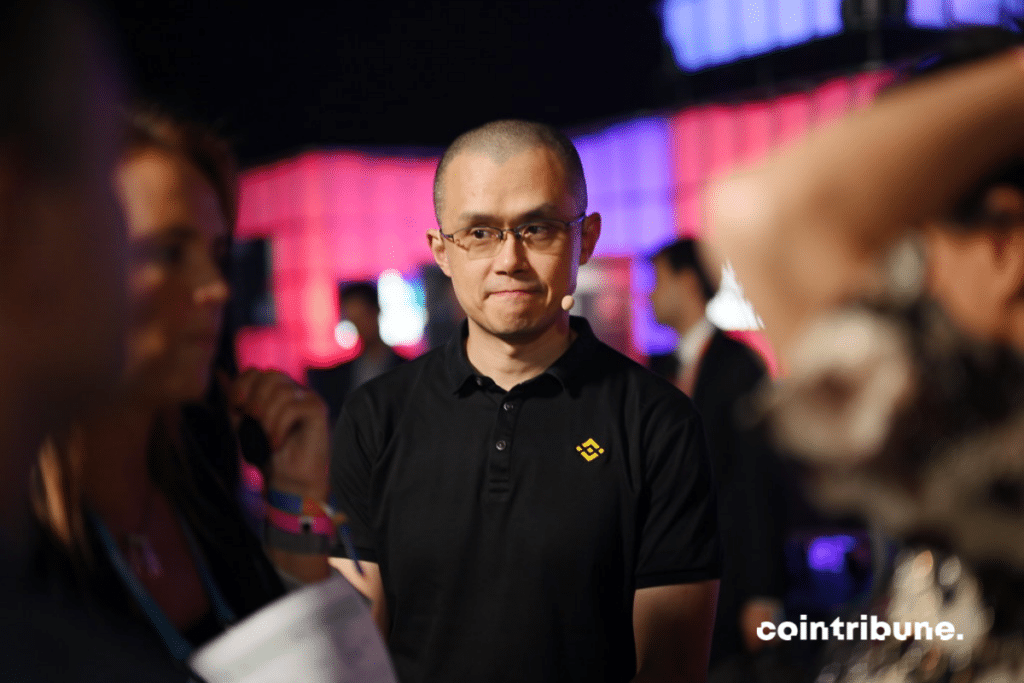 Security or not? 
Coinbase CEO Brian Armstrong is probably regretting urging the US Congress to put pressure on Gary Gensler. The SEC chairman is responding fiercely this week. 
As a result, Coinbase has been summoned by 10 US states to explain itself. The NASDAQ-listed exchange has 28 days to demonstrate why it should not be banned from continuing its operations. 
On the other hand, Binance US risks having the funds of all its clients frozen if the court gives its approval. It is worth noting that funds held on binance.com are not affected. The SEC chairman appeared on CNBC and Bloomberg to explain: 
"These trading platforms, they call themselves exchanges, are co-mingling a number of functions. In traditional finance; we don't see the New York Stock Exchange also operating a hedge fund, making markets, and as we alleged in Binance, having a sister organization flooding the platform with transactions called wash trading."
[Wash trading is the act of creating the illusion that the trading volume of a security is higher than it actually is to attract investors. It is illegal in the United States.]
"Binance customers don't even know who has custody of their funds. Are they held here or abroad? We know that billions of dollars of client funds have been transferred to Merit Peak. We accuse CZ of controlling Merit Peak as well as Sigma Chain, a market maker that artificially inflated volumes." 
According to Gary Gensler, CZ "trades against his clients" through these companies.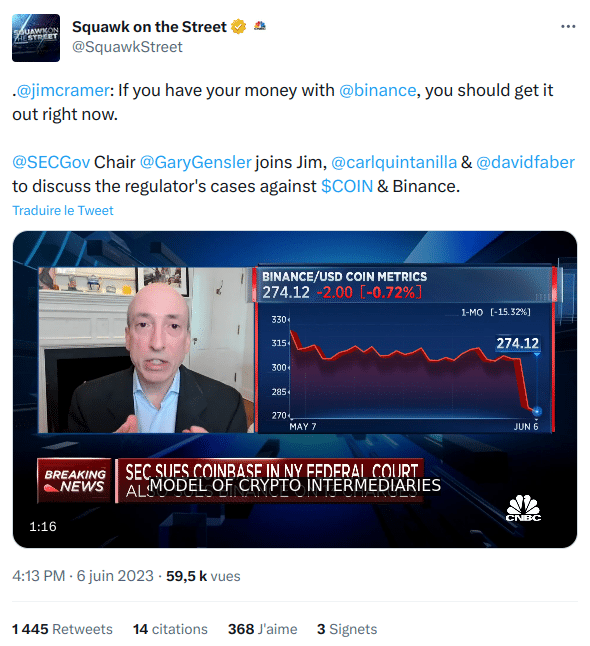 "We don't need more digital currencies" 
When it comes to whether cryptocurrencies are nothing more than a massive Ponzi scheme, Gary Gensler didn't say no: 
"The SEC aims to remain neutral, but we need to ask questions. There is a lot of debate about whether these tokens truly have any utility. We don't need more digital currency. We already have digital currency, such as the US dollar, the euro, and the yen. They are all digital at present." 
"On these exchanges, there are often hundreds of tokens. Coinbase offers around 250 tokens, or even 16,000 tokens through its wallet. The same goes for Binance. All we have to show is that one of these tokens is a security that should have been properly registered with the SEC. We have already highlighted a dozen examples for each of the Binance and Coinbase exchanges." 
[SOL, ADA, MATIC, SAND, CHZ, FLOW, ICP, NEAR, VGX, DASH, NEXO, BNB, BUSD, FIL, ATOM, MANA, ALGO, AXS, and COTI]
"It is up to the public to decide what they want to invest in, but the law requires that it be based on proper registration. Without that, the public cannot know if it is a scam or a counterfeit. And we know that this ecosystem is filled with peddlers and scammers." 
Bitcoin is the only cryptocurrency that Gary Gensler admits is not a security. In the eyes of the SEC, Bitcoin is a "commodity," just like gold. Finally, it is worth mentioning that Binance also clashed with French authorities last week. The exchange was forced to delist a dozen cryptocurrencies, including Monero.
Receive a summary of the news in the world of cryptocurrencies by subscribing to our new daily and weekly newsletter service so you don't miss any of the essentials of Cointribune!
L'équipe éditoriale de Cointribune unit ses voix pour s'exprimer sur des thématiques propres aux cryptomonnaies, à l'investissement, au métaverse et aux NFT, tout en s'efforçant de répondre au mieux à vos interrogations.
DISCLAIMER
The views, thoughts, and opinions expressed in this article belong solely to the author, and should not be taken as investment advice. Do your own research before taking any investment decisions.