Set the fastest time to earn a CryptoPunk worth $120,000
▪
Invest
On September 18, 2023, The Lost Wallet will launch a free online game available at https://www.thelostwallet.com/: an arcade game with a CryptoPunk worth $120,000 and a selection of NFTs as prizes. To win these rewards, the rule is simple: be the player with the fastest time in this arcade game. The course can be completed in less than 5 minutes.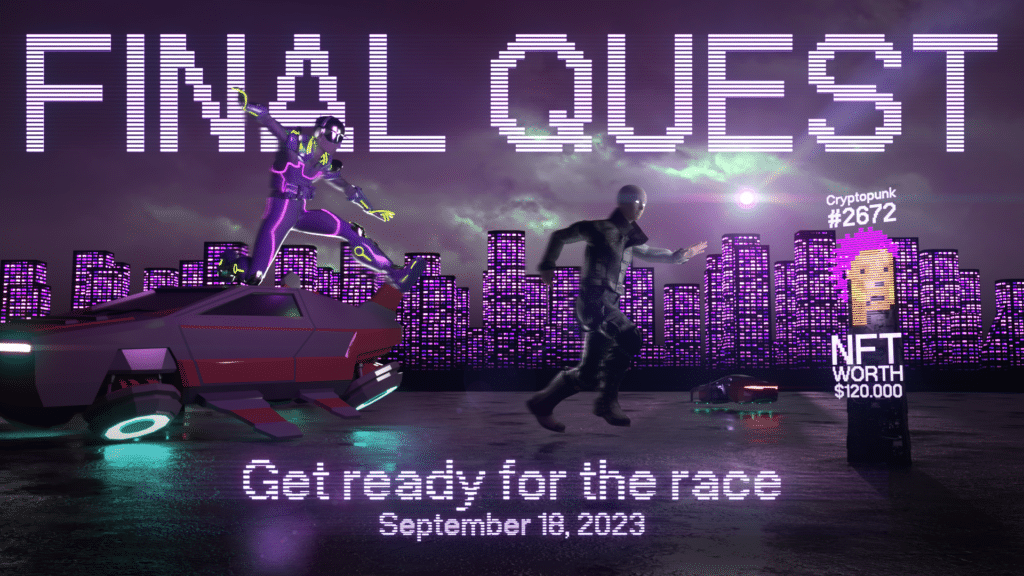 High up in the Seattle skyline, you'll race through a futuristic landscape filled with boosters, obstacles and portals. Designed as a race against time, this game can be restarted as much as you like to achieve your best score.
This arcade quest is part of the story of a video game launched a few months earlier in 2023 on a variety of metaverses (Spatial, The Sandbox, The Nemesis…) but also on the Twitter account @Leviathor_eth.
This ultimate arcade quest aims to capture the Boss of "The Company", a most mysterious firm secretly planning to take control of a blockchain. Leviathor, an absolute web3 enthusiast, will do anything to stop him.
The final quest of the story will therefore be released on September 18. The player with the fastest time will help stop the Boss for good, and above all, will win the CryptoPunk worth $120,000. The next 10 best players will win rare NFTS. Over 15,000 players are expected to take part.
To play this arcade quest, visit https://www.thelostwallet.com/, where the game is integrated. No need to register, just connect your Metamask to save your time and the address of your wallet, into which the reward will be transferred if you win.
Although playing this arcade game is enough to win the CryptoPunk or an NFT, playing the previous quests produced by The Lost Wallet allows you to accumulate booster advantages (speed, invincibility, etc.) for this arcade game.
Find the list of quests in partnership with various platforms (Decentraland, BNV, Twitter…) on the website https://www.thelostwallet.com/.
The Lost Wallet is the result of a collaboration between bem.builders, one of the world's leading metaverse studios, and the Non-Fungible Conference, a major NFT event founded by Jonh Karp.
The treasure hunt is supported by RugRadio, a web3 media that needs no introduction.
Receive a summary of the news in the world of cryptocurrencies by subscribing to our new daily and weekly newsletter service so you don't miss any of the essentials of Cointribune!
L'équipe éditoriale de Cointribune unit ses voix pour s'exprimer sur des thématiques propres aux cryptomonnaies, à l'investissement, au métaverse et aux NFT, tout en s'efforçant de répondre au mieux à vos interrogations.
Disclaimer:
The contents and products mentioned on this page are in no way endorsed by Cointribune and should not be construed as its responsibility.
Cointribune strives to provide readers with all relevant information available, but cannot guarantee its accuracy or completeness. Readers are urged to make their own inquiries before taking any action with respect to the company, and to assume full responsibility for their decisions. This article does not constitute investment advice or an offer or invitation to purchase any products or services.
Investing in digital financial assets involves risks.
Read more