Chainlink (LINK), more fear than harm: July 25, 2023 analysis
▪
Invest
After a worrying technical break, Chainlink's share price performed at +60%. What prospects lie ahead for the benchmark blockchain oracle?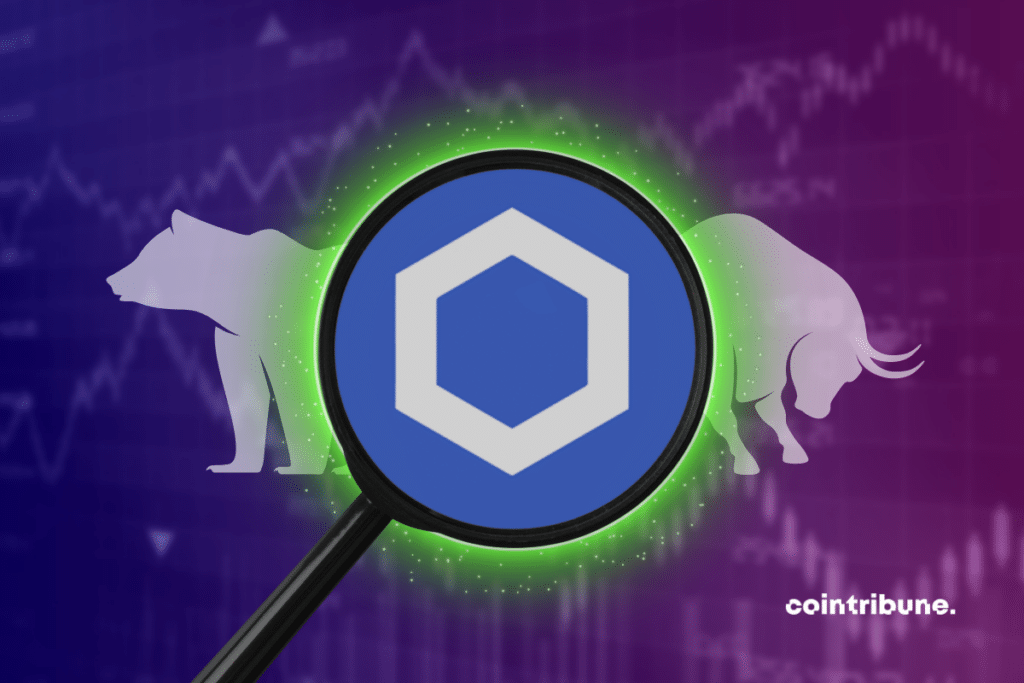 LINK current situation
We mentioned two scenarios, one of them bullish, in our LINK analysis of June 22, 2023. One month later, the latter has come to fruition. Indeed, after making a new low, the LINK price has performed strongly. It recently reached the top of its range near $8. This level was recently rejected. Chainlink is now trading at around $7.5.
The bearish trendline traced from Chainlink's ATH has now been broken. Although the latest weekly close is encouraging for a possible upward continuation, watch out for the $8 resistance. The latter has clearly been repeatedly rejected. From a chartist's point of view, we can see a succession of bottoms. Recent volumes show a certain enthusiasm for the cryptocurrency. This is confirmed by LINK's Open Interest, which hasn't been this high since January 2022. The LINK price is now above the 50 and 200 daily moving averages, which are crossed downwards, but now pointing upwards. Finally, when we look at oscillators such as the RSI or MACD, we can interpret that the LINK's momentum is rather bullish.
Scenarios for Chainlink's share price
For a bullish scenario, we'd have to consider breaching the $8 zone before imagining reaching the psychological $10 threshold. If this resistance is broken upwards, we could then look even further ahead, starting with $11-12.
For a bearish scenario, we'd have to envisage a return below the $7 zone, to imagine returning to the bottom of the range around $6 or even $5.5. Should this support fail to hold, we could anticipate a bearish continuation to the next support level of $5.
Conclusion
Chainlink's latest fluctuations are promising for the future of its share price. However, despite the cryptocurrency's many positive factors, we'll have to wait for further confirmation before we can make clearer, broader projections. It will therefore be important to keep a close eye on how the price reacts on the various identifiable levels, in order to confirm or refute the various hypotheses made. Beware of potential "fake outs" and "market squeezes" on each of these situations. And remember that these scenarios are based solely on technical analysis. Cryptocurrency prices may evolve more or less rapidly, depending on other, more fundamental factors.
Maximize your Cointribune experience with our 'Read to Earn' program! Earn points for each article you read and gain access to exclusive rewards. Sign up now and start accruing benefits.
Family Trading est une Communauté de traders a compte propre active depuis 2017 offrant Lives, contenus éducatifs et entraides autour des marchés financiers dont celui des cryptomonnaies avec à ses côtés Elie FT, investisseur et trader de passion sur le marché crypto.
Disclaimer:
The contents and products mentioned on this page are in no way endorsed by Cointribune and should not be construed as its responsibility.
Cointribune strives to provide readers with all relevant information available, but cannot guarantee its accuracy or completeness. Readers are urged to make their own inquiries before taking any action with respect to the company, and to assume full responsibility for their decisions. This article does not constitute investment advice or an offer or invitation to purchase any products or services.
Investing in digital financial assets involves risks.
Read more