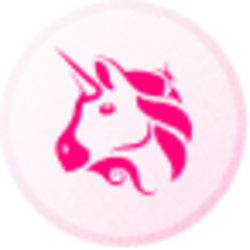 Uniswap price
UNI
Volume 24h
$60,969,560.63
Offer available
762,209,326.535 UNI
Total supply
1,000,000,000 UNI
Capitalization
$4,377,425,284.88
UNISWAP: A BRIEF SUMMARY
Uniswap (UNI) is a decentralised exchange (DEX). Its native UNI token is an ERC-20 token running on Ethereum. UNI's total supply is one billion, which will be fully released within four years. Beyond this, Uniswap will introduce a perpetual inflation rate of 2% to maintain network participation. Uniswap was launched in November 2018, while UNI was deployed in September 2020.
WHAT IS UNISWAP (UNI)?
Uniswap started to blow up in the summer of 2020 by creating a new kind of decentralised exchange (DEX) that allows users to trade without the slightest hint of an order book, radically different from all the other exchange sites available.
The strong point of this DEX is that it allows anyone to create a trading pair of their choice, without needing to secure the agreement of the project concerned or to pay a listing fee to the exchange. However, only ERC-20 tokens (those deployed on the Ethereum blockchain) can currently be exchanged on the Uniswap platform. All the same, in order for a trading pair to be viable, it is important that there is sufficient liquidity for it to operate over time.
Thanks to a clever automated market making (AMM) system, the purchase and sale price of a given token is determined automatically, meaning all users need to do is to simply click on the buy or sell button!
Although still a very young DEX, Uniswap has already managed to attract many users and is now positioning itself as the leader among its peers, even if it is still far from the traditional centralised exchanges (CEX).
What is Uniswap used for?
As we saw in the introduction, Uniswap allows users to make transactions by exchanging cryptocurrencies through its DEX platform. However, we have not seen how exactly it works.
For a exchange to be possible on Uniswap, the relevant trading pair must first be available on the platform and there must be sufficient liquidity to make it work. This is called a 'pool' on Uniswap.
To provide liquidity to a pool, a user is required to supply tokens from the two currencies concerned. For example, if the trading pair is ETH / LINK, you must supply both chainlink and ether.
As we said, there is no order book on this DEX. Users can only choose between buying or selling one of the tokens of the pair concerned at a fixed price, you cannot try to buy for a cheaper price or sell for a more expensive one.
Once the user has made a purchase or sale at a given price, Uniswap calculates the total number of tokens in the pool and shows a new buy or sell price. If ETH have been sold for LINK, then the total supply of LINK in the pool will have decreased, while the number of ETH will have increased. Thanks to its AMM model, the price to get LINK tokens with ETH will now be higher, while it will take fewer LINK to buy ETH.
Of course, if one side of the trading pair is under enormous buy or sell-side pressure, prices can spike very quickly. However, the smartest users will take the opportunity to buy the side that is very cheap and then resell it on another exchange to pocket the difference (this process is called arbitration). As a result, average prices on Uniswap will usually be equal to those on sites like Coinmarketcap. Most of the time, a user will be guaranteed to buy or part with their tokens at a fair price, without having to set a price and wait for a buyer (the CEX + order book model most are used to).
Uniswap's native token is called UNI. For the time being, the UNI tokens only allows to participate in the governance of the project, but it is not out of the question that users will be able to perform other actions with it in the near future.
How to buy UNI?
When you want to invest in cryptocurrencies, you can do so through two different methods. On the one hand, you can go to an exchange platform that connects the fiat world (pounds, dollars, etc.) and the crypto world. Generally, on these exchanges, you can exchange fiat currencies for cryptocurrencies such as Bitcoin or Ethereum, as well as other popular tokens.
As Uniswap is still quite a young project, it is not always possible to exchange pounds for UNI directly. In some cases, you will have to go through the second method, which involves the intermediate step of buying BTC or ETH, and then exchanging these assets for UNI.
However, you shouldn't rule out the possibility of it being possible in the very near future to buy UNI directly with fiat money on most exchange sites, unless the project takes a very bad turn that would damage its currently immaculate reputation.
If you want to buy UNI, you can check out our list of the best exchange sites where you can buy it easily and safely.
What is our opinion of Uniswap (UNI)?
Our opinion on Uniswap is generally very positive. This DEX allows novice users who don't know at what price to buy or sell a token to do so at a fair price. In addition, if a project that has its token on the Ethereum blockchain (ERC-20) cannot afford a listing on a traditional exchange, then it can create a free trading pool on Uniswap.
In addition, Uniswap, which is a fairly young project, is already establishing itself as one of the leaders in the field of decentralised exchanges. All the same, it still has room for significant improvement in the way it operates in order to offer a better user experience and additional functionality.
It is therefore very likely that Uniswap will strengthen its leading position in the DEX space and – who knows – may one day be able to compete with the biggest CEXs in the crypto world.
For more information about the project, we invite you to consult our various guides on Uniswap (insert link), which will explain in much more detail everything you need to know about this decentralised exchange project.