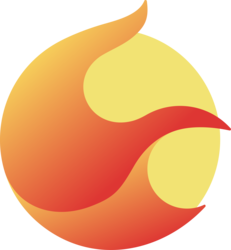 Terra price
LUNA
Offer available
3,453,685,944.371 LUNA
Capitalization
$5,511,343,716.19
TERRA: A BRIEF SUMMARY
Terra (LUNA) was founded by Daniel Schin and Do Kwone in January 2018. Terra aims to promote the rapid adoption of the blockchain and cryptocurrencies by promoting stablecoins and ease of use. Terra was officially launched in April 2019, and since September 2020, the network has supplied stablecoins indexed to the US Dollar, South Korean Won, Mongolian Tugrik, and the IMF currency basket. The native token to Terra, LUNA, is used to stabilise the price of protocol stablecoins, and for network governance.
WHAT IS TERRA (LUNA)?
Terra offers programmable, fiat-pegged stablecoins for the internet. The blockchain protocol's native token, LUNA, is a top 25 crypto token in terms of total market cap, with a market cap of over $8.67 billion (~£6.29 billion). LUNA token reached an all-time high of $22.36 (£16.12) on 21st March, 2021.
The cryptocurrency's all time low of $0.12 (~£0.09) was on 18th March, 2020. The blockchain protocol was founded by Daniel Shin and Do Kwon in January 2018. Their vision was to create a blockchain-based ecosystem that could promote the wide-spread adoption of blockchain technology through a focus on usability and cryptocurrency price stability. 
Given the volatile nature of cryptocurrencies, a fiat-pegged stablecoins ecosystem can help power global payment systems without the volatility associated with normal cryptocurrencies. Terra combines this vision with fast and affordable settlements and the censorship-resistance of the crypto giant Bitcoin (BTC).
Terra's mainnet was officially launched in April 2019 and at the time of writing, the protocol offers stablecoins pegged to several fiat currencies, including the US dollar (USD) – TerraUSD and the South Korean won (KRW) – TerraKRW.
What is Terra (LUNA) for?
As has been mentioned, Terra is an ecosystem that combines the price stability of fiat currencies with the borderless benefits of cryptocurrencies, while promoting overall convenience. With the help of an algorithm, the network automatically adjusts the supply of stablecoins based on demand. 
This is done by incentivising holders of the native token to swap LUNA tokens with stablecoins at a profitable rate. This in turn either increases or decreases the supply of a particular stablecoin to match its demand. Terra has a total supply of one billion LUNA tokens. 
As and when the number of LUNA tokens exceeds this number, the excess tokens are burned (as LUNA coins are minted to maintain the equilibrium of the system). Terra stablecoins offer transaction fees of around two to three percent, instant settlements and seamless cross-border exchange. The ecosystem claims to have over two million active users at the time of writing.
What's more, Terra is working on the integration of the world's assets to its blockchain, through its Mirror Protocol. This protocol creates fungible assets called "mirror synthetics" that track the price of these real-world assets. Mirror synthetics will be used as principal building blocks in smart contracts. 
Another goal of Terra is to make its stablecoins available on every blockchain. Presently, its stablecoins are available on Ethereum (ETH) and Solana (SOL). 
Through Terra's Anchor Protocol, you can earn a stable yield with Terra stablecoin deposits. The blockchain is secured using a proof-of-stake consensus algorithm that is based on Tendermint. You can stake your tokens to validate transactions and receive rewards in proportion to the amount of LUNA tokens that you have staked. 
The cryptocurrency serves as a governance token as well, allowing LUNA holders to vote on governance proposals.
How to buy LUNA?
You can buy LUNA tokens at several cryptocurrency exchanges, including Binance, Huobi Global, Bitfinex, BiONE, Upbit and OKEx. That said, Binance and Huobi Global are the two best crypto exchanges to purchase LUNA coins. 
On Binance, you can buy LUNA tokens with BTC, USDT, BUSD or Binance's native token BNB. Once you have found your chosen pairing i.e. LUNA/BTC through the Markets tab at the bottom of your app, tap it and then click BUY (assuming that you are making an app purchase). 
Here you can choose the price you wish to purchase LUNA tokens at and the total amount you wish to spend in the cryptocurrency you have chosen (in this case BTC). All you need to do now is click Buy LUNA. 
Your order will be submitted. If you choose a market order it will be executed immediately. If you choose a limit order your order will only be executed once the price has been reached.
At Huobi Global, you can exchange BTC, HT and USDT tokens for LUNA coins. If you do not have these tokens in your possession, you can easily buy them via several payment options. You can visit the Huobi P2P Market as well. 
What is our opinion on Terra (LUNA)?
LUNA is a wonderful long-term investment option. Several blockchain projects are trying to offer alternatives to traditional payment options and Terra is certainly right up there. Terra offers instant transaction finalisation, price stability and overall convenience.
The project could gain further prominence with the introduction of real-life assets and more fiat-pegged stablecoin options.