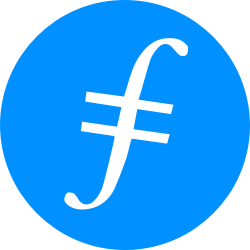 Filecoin price
FIL
Volume 24h
$41,586,971.56
Offer available
330,853,366 FIL
Capitalization
$1,464,294,571.13
FILECOIN: A BRIEF SUMMARY
Filecoin (FIL) is a decentralised file storage system. The project launched its ICO in 2017 and raised USD 205 million. The initial launch date was scheduled for mid-2019, but was pushed back to block 148,888. Filecoin was founded by Juan Benet, who created the Interplanetary File System. Unlike cloud storage systems such as AWS or CloudFlare, Filecoin's decentralised nature allows it to protect the integrity of the location of data, making it easily accessible and protecting it from censorship.
WHAT IS FILECOIN (FIL)?
Filecoin is a blockchain-based data storage system. Working off of the realisation that user data was in the hands of large groups with no guarantee of privacy, the Filecoin project was born to give the users back complete control of the data they decided to store on the cloud.
Thanks to Filecoin's special mechanism, user data is stored in a decentralised manner across several different locations, and can only be accessed with a type of decryption key. As a result, the user is the only person who can reassemble all their data and have access to it. Privacy is preserved, and it is not possible for a third party to access the data stored through the Filecoin protocol. Although the project did not arrive on the exchanges until mid-October 2020, it has since entered the top 50 cryptocurrency projects by market cap and is still there at the time of writing (March 2021).
What is Filecoin for?
Filecoin began raising funds with an ICO in 2017 and decided to enter the market only once its blockchain was fully operational. The project is based on a unique consensus of proof-of-replication and proof-of-spacetime. Transactions on the blockchain are carried out with the native FIL token.
The Filecoin network is based on a peer-to-peer system, where users compete with each other to provide storage space or to give access to user data. It would be quite complex to go into detail on the complete operation of the project, but we can explain it in a simplified way with rough approximations here and there, to help everyone understand things well.
Filecoin assumes that the user's goal is to get the best price to store their data in a decentralised manner and to access it as quickly as possible when they need it again. Meanwhile, the goal of the storage space provider is to be able to make the most of the computing power it has made available to secure a customer's data.
When a deal is struck between a user and a person willing to store the data, it is closed in FIL tokens for a fixed period of time. Once payment is made and the customer's data is 'locked away' at a specific location, it will only be accessible by the user.
When the customer wishes to access their data, this information can be provided by the miner who made the initial transaction or by another miner who decides to replicate the stored data. In order to be able to provide the data to a customer more quickly, some miners may decide to replicate the stored information in advance so that they can be returned more quickly and thus pocket the FIL rewards in place of the original miner. The FIL token serves as a means of payment for all transactions that take place on the Filecoin blockchain and can also be traded on conventional exchanges. Unlike some projects, FIL tokens do not give their holders a right of governance on Filecoin.
How to buy FIL?
To obtain FIL tokens, you have to go to an exchange site and first get a more popular cryptocurrency, such as BTCor ETH, which can then be exchanged for FIL. It is still extremely rare to be able to buy Filecoin directly with fiat money (pounds, dollars, etc.).
However, it is important to pay close attention to the platform you use to buy your FIL tokens, as there are unfortunately many scams in the cryptocurrency industry and you risk losing your money if you deposit it on a questionable site. To avoid this, we advise you to make your purchases only by using one of the reliable exchange sites that we have tested and that we recommend to our readers.
Filecoin can also be obtained by participating in network storage operations. Whenever you give users access to your storage space, you'll be rewarded with FIL tokens. However, it will take longer than if you decided to buy FIL tokens directly. It's up to you to see what's the best option for you.
What is our opinion on Filecoin (FIL)?
Filecoin is certainly a very exciting project, as it allows the use of blockchain technology to guarantee the confidentiality of data stored by users. At present, this data is usually secured by large groups, such as Google and Facebook, who can pretty much do with it what they want, although fortunately this is only very rarely the case. With Filecoin's storage system, users can be guaranteed maximum privacy because only they will have access to their personal data.
However, we find it regrettable that no fiat payment system is available to use Filecoin's services, as this would make it much more user friendly for people who are not familiar with blockchain technology. In our opinion, Filecoin should set up a fiat purchasing system that allows FIL tokens to be purchased directly on its platform. Let's hope that this will soon be the case in the future.
To learn more about the project, please check out our Filecoin guide (insert link), which further explains how this new blockchain-based storage technology works.